Chapter 7
(11th September 2000):
The matted princess
---
Dear lovers of Gráinne,
<![if !vml]>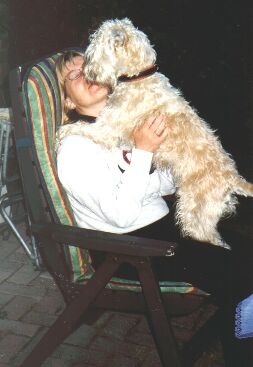 <![endif]>
Of course I'm convinced that everybody loves me, but some more than others. I'm such a personable pup. Every now and then I run into someone who doesn't want a Wheaten greeting all over their face, but most at least hug me back. We went to the retirement home yesterday and I was allowed to visit with the elderly folks sitting out in the warm sunshine instead of waiting in my playpen in the car. Most of the residents are blind, but they were believers in my beauty when they felt my silky coat. I chewed all over Daddy's mum's hands to let her know she's special.
Speaking of that silky coat, I almost lost it! One day in August, when I had about given up all hope of ever seeing my crate in Bramstedt and my Mitsubishi playpen again, lo and behold! There were Mummy and Daddy to pick me up after their vacation. I was so surprised that I forgot to give them the cold shoulder for leaving me and I wrapped myself around their necks. "Is this Gráinne?" they kept saying, "She's huge!" Well, I didn't have much else to do in the kennel but to grow. This time Uncle Walz grinned and gave me a good reference and my folks breathed a sigh of relief.
Next stop was at the groomer's for an appointment for a haircut. Frau Helms put her hand on my coat once and said in horror, "Oooooohhhhhhhhhhhhhhhh nnnnooooooooooo! She's all matted right down to the skin. All we can do is shave her naked and start over." Mum said to me, "No way, Gráinne. Grandpa and Grandma are coming in October to meet an Irish Soft-coated Wheaten Terror, not a skinned pig."
We had ten days to get the mats out and Mummy got right down to business; we had a wrestling match for 1 1/2 hours a day. Kysha's panic drops helped some, but it still hurt and I still shouted "Ow!" Mum still had to hold me down with the wrestling holds she had learned watching Uncle David in high school.
We were finished the night before D-day and when we showed up at Frau Helms' she was impressed. I got a grown-up 2-hour haircut and they all say I'm a real beauty now.
That really is the disadvantage of being a Wheaten; I bring home a good part of the woods from our walk every day and Mum always heads for the wire brush.
<![if !vml]>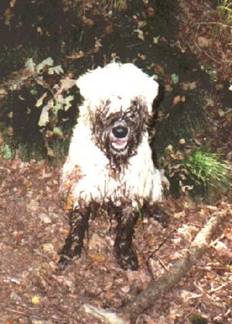 <![endif]>Sometimes I have to hit the shower first. Last week Mummy and I took off across the fields. She looked funny in her rain gear: rain jacket, rain pants and her beloved Wellies (rubber boots for you Americans). We ran into Mum's hairdresser with her dog Cilly. Now that's my type of canine. She took me off into the field and we rolled and wrestled in the mud together until we looked like .....
Well, Daddy took a picture of me when we came home.
Cilly wanted to avoid the shower bit, so she took a few baths in the pond in the woods. I couldn't get her to understand that I wanted to leave my mud pack on longer to get even more beautiful and she kept chasing me back to the pond and showing me how to plunge in and swim. No way, I said.
Now that it's autumn our walks have got slower while Mum raids the elderberry trees and Dad combs (gosh, I hate that word) the woods for mushrooms. So I have to get more strenuous exercise with sprints by tearing through the fields like a kangaroo and weightlifting through the woods with the biggest stick I can find. One day I found an egg along the road, which I thought was every bit as good as the plums and blackberries and cherries Mum and Dad have been finding. Speaking of woods, Gráinne's Wood isn't bad, but I've found a real prize place in the next town: Syke. I took my folks there and showed them how to get some real exercise. Mummy walks along the top of the Wolfsschlucht (Wolf's Canyon: and this in our flatland!) and Daddy walks along the floor of the canyon. Gráinne flies from one of them to the other and back again. Mummy said she has to close her eyes when I take a flying leap from the top. I bet she shuts them on the roller coaster, too.
With my folks being educators, I suppose I ought to tell you that my vocabulary is growing. I know "Come", "Come here", "Heel", "Sit", "Stay", "OK", "Get your toy and bring it here", "No pulling", "No biting", "Down", "Good girl", "Cookie", and my favorites: "Wanna go bye-bye?" and "Wanna go for a walk?" In the hopes that they'll take me back to puppy garden, I don't do them right all the time, but these two are so pleased with me that they just say, "If Thomas could only see her now." That's a shame; I really enjoyed doing everything wrong.
I'm looking forward to two events this fall: They've promised to take me to the island of Spiekeroog during fall vacation and let me run on the beach to my heart's content. That ought to be even better than the long jump sand pit at the Bramstedt sports field. And Thanksgiving! Mum is going to roast me a turkey!
Slurps and nibbles from
Gráinne