Chapter 10
(13th September 2001):
Elephant Hunting
---
My Irish Soft-Coated Wheaten Terrier ancestors used to watch over Irish farmyards in the Old Country. Well, as most of us don't do that nowadays, we need some kind of substitute profession.
Now that I'm all grown up and reliable Mummy and Daddy are back to their afternoon teacher's coma after lunch and I watch over the homestead. Today even before they could start their 40 winks, I heard a crow cawing in the house (how brazen!). With a warning woof from deep in my throat, I sprang up from my position next to Mummy's bed and tore down the stairs to drive away the intruder. Yet it was nowhere to be seen. We repeated our hide-and-seek game: caw, woof, caw, woof. Any self-respecting Wheaten does not give up.
Next it was the call of an elephant. As we live near the North Sea, elephants are rare here! I woofed and continued to protect house and home. Then I realized that the beasts were in Daddy's study upstairs.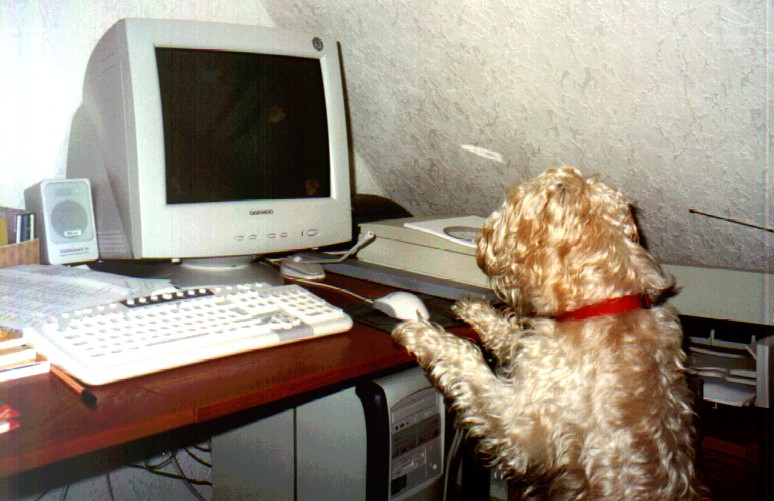 Now I take elephants and the protection of my daddy seriously. I checked out every corner under his desk with the greatest of care, popping up again and again between the desk and the wall, behind the computer, among the cords and wires. Another trumpeting – and this time I found him: on the monitor! Fearless Gráinne pounced on the computer mouse - and - end of elephant! Victory!
I still have to get the crow. Dad says it's a toucan and part of a new screen saver called "Jungle", which he installed and then forgot. As soon as I take care of the toucan, we'll get a Wheaten screen saver and then we can get some decent naps around here.
C'mon over! We'll go on a Safari together!
Love
Gráinne