Chapter 17
(July, 2002):
"Denmark" stands for "Doggies"
---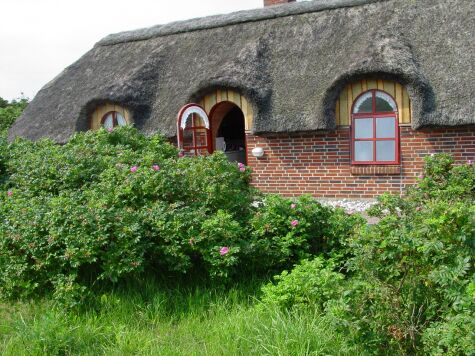 It was making me nervous – all those boxes, bags and suitcases moving around the house. Finally my crate was dismantled and I was seatbelted into the back seat of Gráinne's Car. Those were good signs now.
MeanwhileI had got pretty good at herding since Aunt Sarabeth and Tanya had come to visit. However, it was hard work on the highway with Daddy and Sarabeth in the other car. They got away from me a couple of times, but I nipped at their heels via cell phone until we pulled into the parking space in front of the adorable 3-bed-room thatched cottage Daddy had booked for my beach vacation on the west coast of Denmark, an off-leash paradise.
The boxes, bags, suitcases and my crate followed us into the house. Aha, we're here to stay.
Then I was buckled into my lemon-yellow life jacket and Daddy called, "Beach, Graínne!". I didn't need a second invitation and got there before them. Miles and miles and miles of beach to run on every day! But what happened to the seagulls? No one to chase and few of the other dogs really knew how to play tag.
Good thing I had Daddy with me and the waves played tag, too. They rarely caught me higher than the ankle, though, because I'm quicker than the brown fox that jumped over the lazy dogs.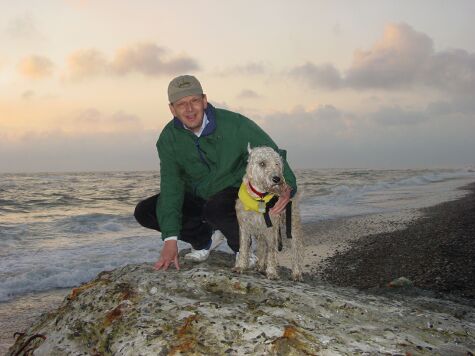 Most of the time I was able to keep my little herd under control. When the sun came out and Sarabeth and Tanya hit the waves, my job got harder. I had to jump over the waves halfway up my back to save them, as there was no other lifeguard on duty.
After three days of romping and resting on the beach we piled into Gráinne's Car again, this time without my crate. Just an excursion then. Four hours of napping on knees in the back seat and we were in the big city of Copenhagen, where we nearly walked the pads off my paws. Mummy and Daddy claim that my socialization has been a success, my being quite streetwise now, unlike my first experience with city traffic and crowds, where I nearly lost my young life in Hamburg. Now I voluntarily keep between Mummy's left knee and Daddy's right while we sweep down the sidewalk like a John Deere combine. Now we're working on some more intricate and sophisticated dance steps for tight squeezes. I've also learned to take advantage of a blade of grass in the concrete landscape and to drink out of a bottle with a nozzle, which simplifies the gastronomical and sanitary arrangements.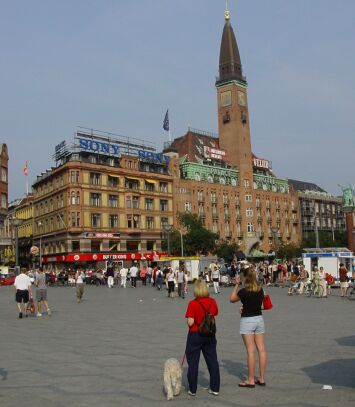 "A Wheaten!" we suddenly heard between the royal palace and the Little Mermaid, and all four of my humans pricked up their ears like a Wheatie does at the sound of a plastic bag being opened. It was a Wheaten ownee from Ontario, happy to get even this brief Wheaten fix. I was glad to accommodate, of course.
In the evening Daddy and I went to the parking garage to get Gráinne's Car. In went Gráinne's blanket; in went Gráinne. But Daddy shut the hatch and walked off. "What??! You're going to Tivoli without me? Haven't I proven how well I deal with crowds? I can't believe I let him trick me that easily." Even my sad eyes and long face (and I am a master of that art) didn't make him feel guilty enough to change his mind until midnight, when he collected me from my nap to put me to bed in the hotel. Good thing he forgot my blanket; I was allowed to sleep on their jackets. But I preferred the bedspread which had slipped onto the floor.
Next morning we all went to Copenhagen Airport, but only 3 of us came back out. Uh-oh. Lost half of my herd. I hope I don't lose my job. Back at the cottage - there were my crate and my snack ball that Mummy's kind students had given me for helping them to pass their English Abitur comprehensives. They should see how fast I learned to use it. The trick is: when you get down to the last two pieces, which don't come out easily, you carry the ball over and dump it in Daddy's lap. He thinks you're so clever that he shakes out the two culprits. Then you carry the empty ball to Mummy for a refill. Alternate rule: Mummy plays both roles.
I had good opportunities to show how well my GPS works. Even after the 1½ day trip to Copenhagen, I recognized the turnoff to our cottage in Søndervig and even after an hour's hike I could always find the spot to leave the beach for the 5-minute walk through the dunes as well as the right rose hedge surrounding our cottage. I also found my Very Favored Neighbors from Hamburg within a few minutes of their moving in: a dog dish in the living-room and a plate of yogurt on the terrace proclaimed that this was a good place to sneak away to. Fifteen-year-old Timmy was patient with a hyper 2½-year-old Wheaten stealing his family and food.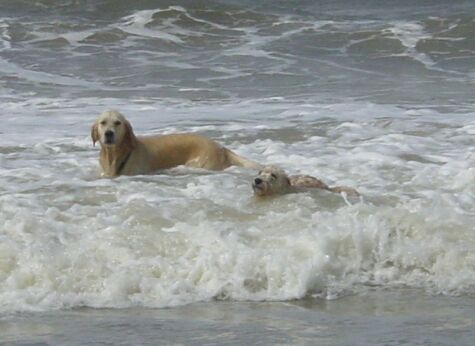 Best Canine on the Beach award goes to Gráinne na Dun na nGall, of course. Runner-up is a Golden Retriever who played in the waves like a mermaid. He even got me to go in deep enough for the waves to break over my back. Worrywort Mummy wished I had my life jacket on when one wave broke over my head. (I was scared, but won't admit it.)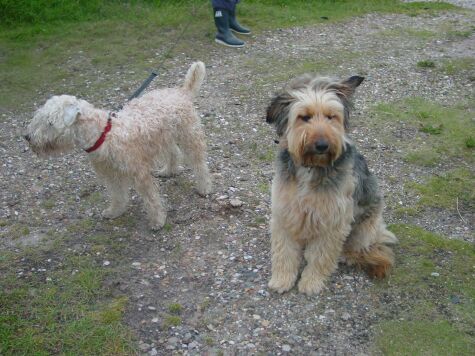 Third place goes to two Irish Setter brothers: Max and Moritz. They really kept me hopping in a game of Two Against One Tag. Discovering that Moritz was afraid of water, I detoured into the waves to limit the opposing team to one. However, Moritz forgot his fear and splashed along with us. Most Beautiful Doggie goes to Tony from Anaberg, a Shepherd-Briard mix. His dad had the biggest treats.
We've added two more words to my vocabulary: Beach and No Picnic. The former is self-explanatory, meaning "sand, water, run". The latter is heard whenever I stop to investigate another group of vacationers and their goodies,but of course I don't admit to comprehending.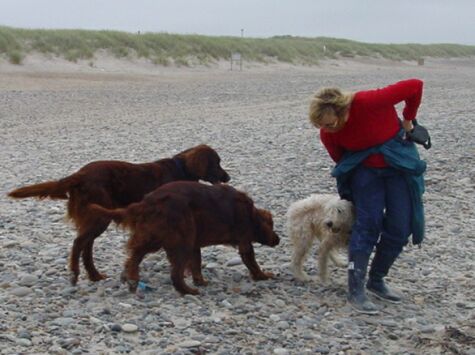 One day I taught Mummy a new game.She goes into the water just beyond where I can stand and calls me to come to her outstretched hands. I inch forward until a wave hits and I jump back, barking like a maniac. Once I even reached her fingertips. Touchdown!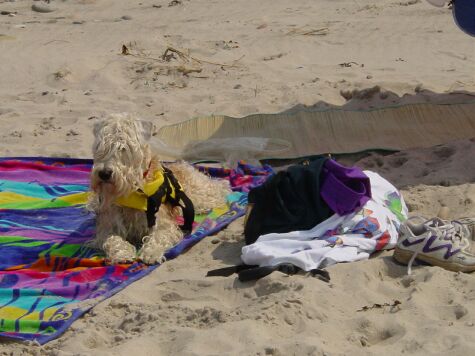 I do my best to entertain Mummy and Daddy and everybody else on the beach. That all makes a Wheatie tired, so I lie on Mummy's towel under the sun umbrella and Mummy lies in the sand next to me.
You won't be surprised by my newest sport if you remember how I've always climbed every bank and torn down the side of every gully. I call this Duning. First I trot determinedly to the bottom of a particularly high dune cliff and start up a path to the top, stopping halfway to look back and reassure myself that Mummy and Daddy are both watching.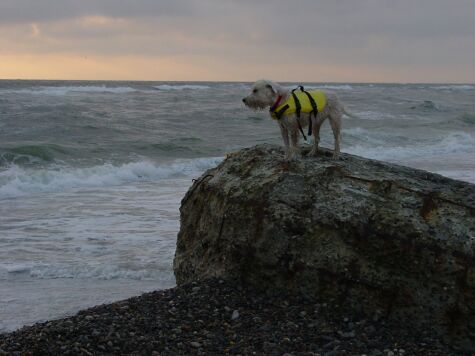 Reaching the top, I pose for a while and enjoy the view, sniff the salty air and make a generally sovereign and contented impression. Then I follow the edge of the cliff for a few yards, disappearing and reappearing in the clumps of dune grasses and always checking to make sure that I have Mummy and Daddy's full attention. Suddenly I dash down the side of the cliff like a daredevil, across the beach like a jet and come to a perfectly calculated halt in front of the folks for a Tuna Treat. Mummy says I'm a show-off. Daddy calls me Mountain Goat.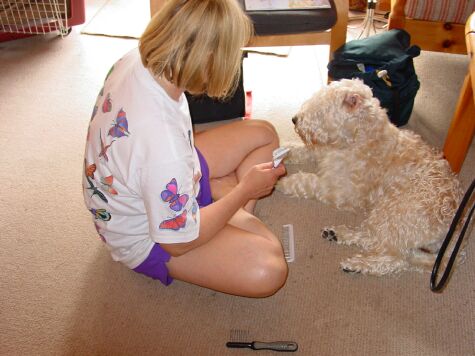 The only negative side effect of a beach vacation is the constant combing. Mummy has all the time in the world to tend to my tangles and I get lots of those in the sea. I guess the extra neck scratching and belly rubs make up for it, though.
Naa,I don't think I wanna go home yet! I'll stay till the waves are switched off!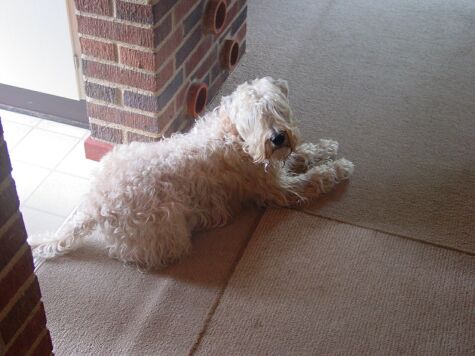 Back to my homepage