Mummy and Daddy had a champagne reception for Diarmuid. Four couples who had played a role in getting him came to meet the puppy and to express their sympathy for me. My Wheaten friend Tessa was here, too, and she kept him off my neck for about an hour until she had also had enough of the pest. Then Diarmuid had to go on a leash! Serves him right! Diarmuid has walked well on the leash right from the first time. When a car comes, he sits next to Mummy's leg. Not because he learned it, though; he's just scared of cars. Wait till he grows up! I was scared at first, too.
He might be all right as a brother some day, though. His debut in society was at the olive oil festival northeast of Bremen. Daddy said he needed his hands free to carry olive oil so I had to stay at home, being the dependable one. (Mummy played Frisbee with me when they got home to make up for leaving me and taking Diarmuid.) He was very popular, not afraid of all the people and was asked by many if he was going to be a Briard when he grew up. How come everybody loves a puppy so much? I guess because he doesn't try to go in their crates.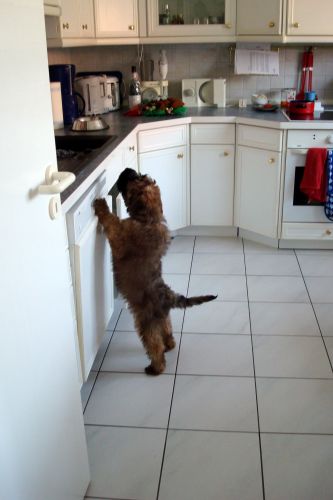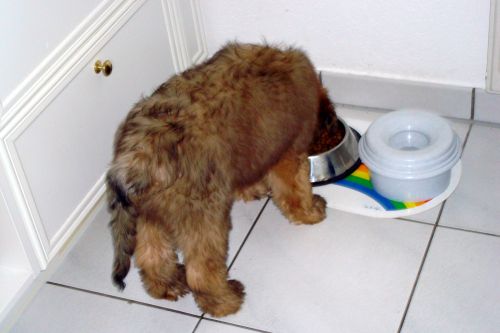 The little kid sleeps well in his crate all night, but you should hear the fuss he makes, when Mummy and I go shopping or on my long walks and he has to go in the crate! He takes his naps next to our water bowl in the upstairs bathroom or downstairs under a kitchen chair, looking angelic.
Diarmuid has discovered the good things in life: bully sticks and vanilla ice cream. He has my toys strewn all over the house and yard. Shoes are placed above his reach. He can't reach the table or counter yet! That's still my territory.
I got his goat last night for chewing on my bully stick while Mummy and I did an errand. I took his chew stick from him even though I had already had one. That's a big sister's prerogative, isn't it?
We have to eat separately so that I don't get into his bowl. He eats baby stuff and it's too rich for my waistline. Mummy wants me to stay trim for agility. I can't understand why he gets fed three times a day and I only get fed once (officially). After all, I don't piddle in the house. He may be getting the idea – or maybe it's just Mummy's constantly watching him and timing his routine – but he's a long way from doing it on command like I do. I'm a big girl.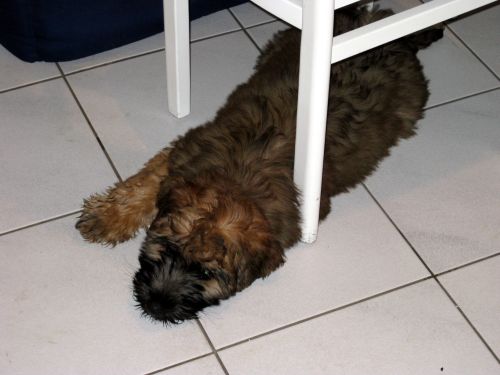 We race each other to the door to greet the guests when someone rings or knocks. Knocking is dog people. They really come to see me but the court jester thinks he counts, too. When we're upstairs, I win, because Mummy has to pick him up, open the board for me and carry him down. I'm faster than Mummy. If we're downstairs, I sometimes let him win. But not when it's Daddy coming home. He's mine! Diarmuid gives 5-6 kisses before he starts to nibble and bite. I always give kisses. Want some? Just say, "I love you, Gráinne".
Everybody says how beautiful Diarmuid is. Mummy says I have to go on the grooming table for a haircut this week so that I can stay as handsome as he is. I think I'd rather leave the beauty prizes to him.
Daddy calls him "Gangster" because he has a black mask. Suits him well, because tonight he already snitched our chew sticks from the kitchen table. This guy might be a good conspirator after all!